Cycling
EuroVelo 6
The trans-European cycling route EuroVelo 6, which connects the Atlantic with the Black Sea, passes through one of the most beautiful parts of Serbia. The route through Serbia, which stretches from Bački Breg to Bregovo, is divided into seven stages. The fourth stage, Novi Sad – Belgrade (96 km long), passes through the territory of the municipality of Inđija – from Čortanovci through Beska, Krčedin, then past Slankamenački Vinogradi to Stari Slankamen and onward towards Surduk.
The route leads along the peripheral part of Fruška Gora, an area where the wooded landscapes of the national park alternate with the Srem plain, orchards and vineyards. Along the trail there are a number of vantage points with a beautiful view of the Danube and the surrounding area.
By turning from this route to the interesting settlements of the municipality of Inđija, tourists can enjoy the natural wonders of the Danube banks, get to know the tradition of this area but also the modern spirit of the city of Inđija, the centre of one of the most developed municipalities in Serbia.
Features of the route through the municipality of Inđija:
Length: 26 km
Altitude: 154 m
Trail quality: good
REST AREA FOR CYCLISTS IN BEŠKA
On the trans-European bicycle route EuroVelo 6, which connects the Atlantic Ocean and the Black Sea and which passes through the territory of the municipality of Inđija, a rest area for cyclists was set up in Beška in 2012. At the entrance to the settlement from the direction of Novi Sad and Čortanovci, tourists can take a break on an organized area, get fresh drinking water, connect to a free wifi network and plan their journey with the help of information and maps on information boards.
The rest area for cyclists is at the same time a small village square and a park of friendship between Beška and the partner settlement Karlshuld (Germany) and is therefore called Karlshuld Park. The partnership agreement between Beška and this Bavarian town was signed in 2010.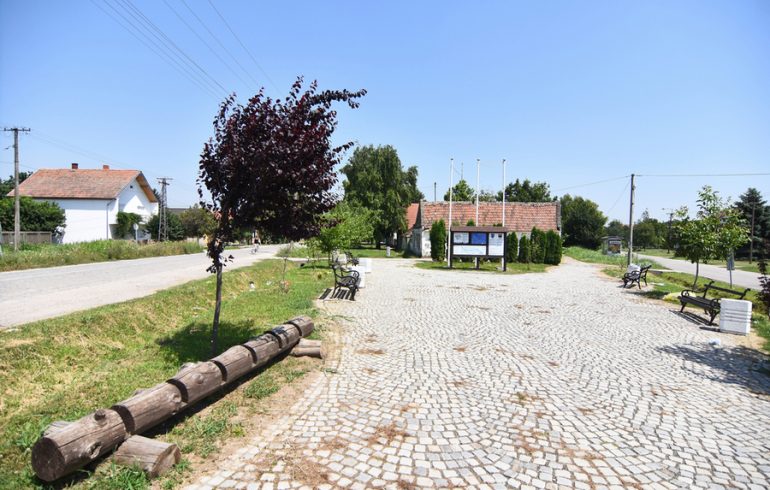 LAKE CYCLING ROUTE
The lake cycling route is a route that connects all lakes in the territory of eastern Srem. It covers the territory of the municipalities of Ruma, Irig and Inđija next to the following lakes: Pavlovačko, Borkovačko, Bankovačko (Međeš), Dobrodol and Jarkovci. It covers the area between the Sava cycling route and the Srem route, with which it is connected by the Monastery route. The length of the lake cycling route is 155 km.
In the territory of the municipality of Inđija, the lake route passes through Ljukovo, then along Lake of Jarkovci all the way to Maradik. The turn for Lake Jarkovci is also marked, as well as the path that leads around the lake. The route uses the existing asphalt road and partially a country road which is in good condition.
More detailed information on Srem's cycling routes can be found on the website www.srembike.rs