Monument to queen Maria
The most beloved Serbian queen
The monument to Queen Maria is located in Inđija, in the park named after the Queen. It was built with voluntary contributions on 8 November 2021, on Mitrovdan, the day commemorating the liberation of Inđija in the World War I. The bust of Queen Maria in Inđija is the first bust of Queen Maria in Serbia.
Queen Maria was the second daughter of King Ferdinand of Romania and Queen Marie of Romania. She was born in Gotha (Thuringia, Germany) on 9 January 1900 and died in London on 22 June 1961. Queen Maria married King Alexander I of Yugoslavia in Belgrade on 8 June 1922. She was the epitome of a devoted and caring wife and mother. She had three sons with him – Crown Prince Peter and Princes Tomislav and Andrej.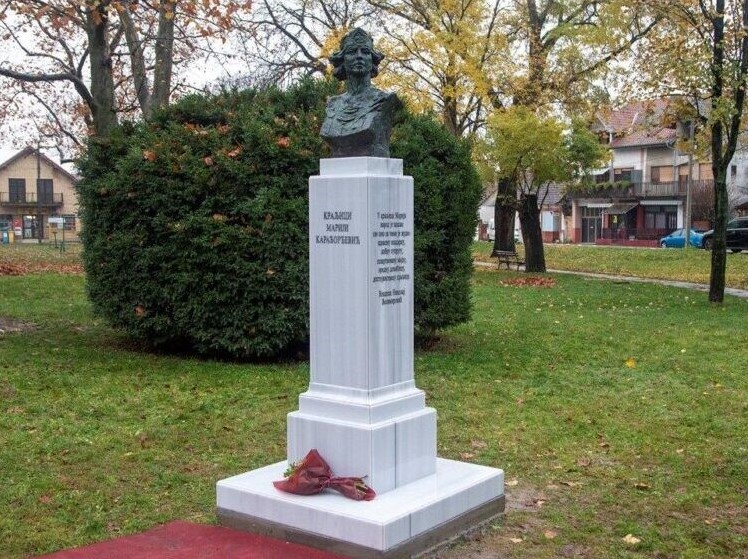 She was very educated and the first woman with a driver's license in the Balkans, but what stood out most about her was her humanity. During the World War I, she worked with her mother in a hospital caring for the wounded. After the assassination of King Alexander I in Marseilles on 9 October 1934, she continued to care for her sons and became Queen Mother. During the World War II, she was very active in the Red Cross, through which she sent significant humanitarian aid to Yugoslavia, which she did not sign with her name, but with the pseudonym "Marija K. Đorđević".
After World War II, she lived modestly on her estate in Kent, England. General Charles de Gaulle decorated her with the Grand Cross of the Legion of Honour.
Queen Maria was buried in the Royal Burial Ground in Frogmore, next to Windsor Castle (England). In May 2013, her remains were repatriated to the Royal Mausoleum in Oplenac.
She was the most beloved Serbian queen.