Monument to the Danube Partisan Detachment
Symbol of the Central Square
The Danube Partisan Detachment was formed at the end of September 1941, and was led by Commander Petar Relić. At first, he had only seven fighters. Already in the autumn and winter of 1941/42, the detachment carried out several successful sabotage operations on the railway Ruma – Irig – Stara Pazova – Zemun, cut off communication links and acted politically among the people. The number of fighters grew slowly, so that at the beginning of March 1942, the detachment was divided into two companies: Irig and Krušedol, with approximately 70 fighters.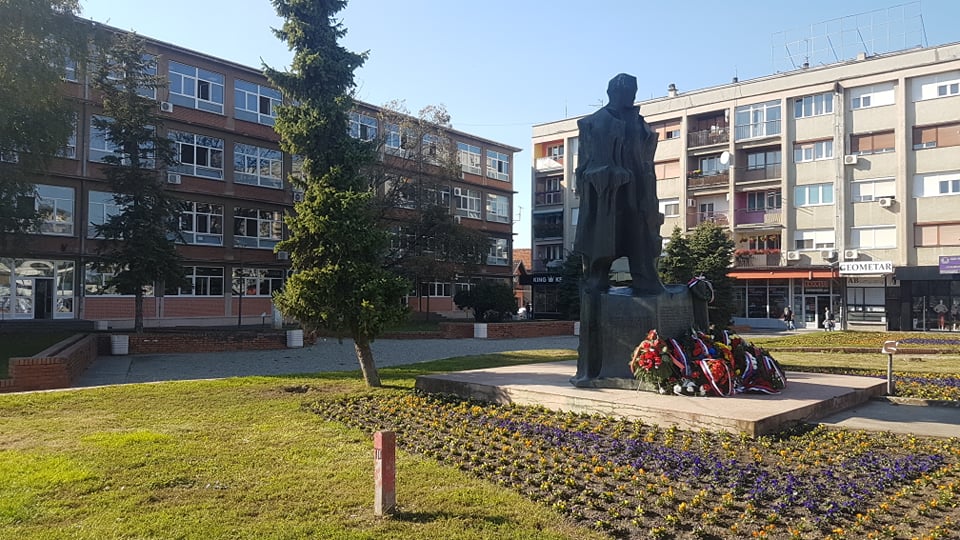 From these small partisan detachments, by the summer of 1942, three strong detachments, the Fruška Gora, Danube, Sava Detachments and the Bosut Partisan Company, were formed on Fruška Gora, a total of about 1,000 well-armed fighters. They first attacked smaller groups of enemy soldiers, in order to supply weapons, ammunition, and equipment as quickly as possible, and then they also attacked enemy crews, columns and transportations, carried out diversions on rail, road and water communications, and burned municipal archives, grain, and hemp and with its numerous and various actions forced the enemy to keep up to 20,000 soldiers in this area.
The partisans of the Danube Detachment distinguished themselves in the battles with the Germans, the Ustasha and the Croatian Home Guard units in the eastern part of Fruška Gora. In the enemy offensive on this mountain from 25t to 30 August,1942, the majority of the detachment broke through the enemy ranks with great losses and managed to transfer to lower Srem. At the beginning of September 1942, it was reorganized into the 2nd Battalion of the newly formed 3rd Detachment of the 3rd Operational Zone of Croatia.
A monument dedicated to the Danube Partisan Detachment was placed in 1975 in the center of Inđija, in front of the building of the Grammar School. It represents a stylized figure of a partisan 3.50 meters high on a pedestal 1.50 meters high. The figure and the pedestal were cast from one part in order to get the visual impression that this Srem partisan emerged from the land of which he is an integral part. The author of the monument is the academy-trained sculptor Vladislav Petrović.